Every good gamer's wish is to have a kickass gaming room which will help in getting the most awesome gaming experience. Having the coolest gaming equipment which should include some prime viewing screens, good quality tech and of course a comfy chair is only half of how a gaming area becomes absolutely fantastic. Whether you have a whole room dedicated to your gaming passion or not, we have got some amazing LED lighting ideas which will help you set up your gaming area in the most perfect way ever.
Pick gaming room lights color carefully:
Before installing LED lights for your gaming room, you need to know your basics. First, pick out the places you want to install the lights and carefully map out the area. If you need any styling inspirations, there are always famous gamers who have shared their gaming setups online. Then you need to pick out your colors because having a good light contrast in your gaming room is guaranteed to give you a more engaging experience. There are plenty of LED lights which not only change color but are also controllable via a single phone app. So with so many options available don't compromise on the lighting experience and try following some of our decorating tips.
Guard the gaming chamber right:
Believe it or not, a gamer's gaming equipment is sacred and quite honestly very expensive. You need to have the entrance to your gaming area not only secure but also in sync with your gaming soul. Pick out your favorite gaming room LED light colors or better yet choose the ones which change from red to green. You can switch the color to red when you don't want any disturbance and switch it to green when you are in a people-friendly mood.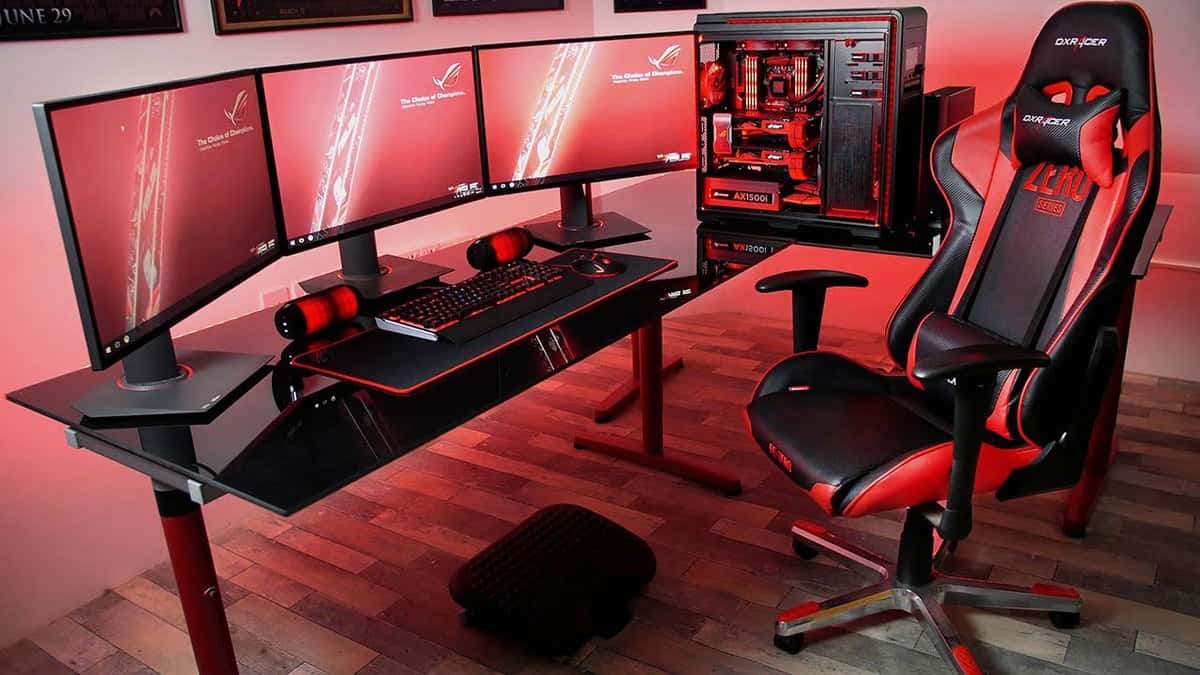 Deck those walls:
Cove lighting is so in trend these days. You can practically lit up your room's ceiling, giving it that glow in the semi-dark effect. Usually, while gaming only bright-lit screens are preferred and a bright lighted room just dampens the whole effect. Carefully decorated glowing LED lights on the walls of your gaming area will create an incredible look even when you are taking a break from the gaming action. You can always control the light colors with your app and change the color according to your mood or the game you are currently hooked on!
Backlight that gaming equipment:
A true gamer revels in the installment of a cool LED lighting setup for the gaming room. So it is not surprising at all that you have been eyeing your gaming setup with some LED light strips with remote in your hands. Now backlighting your gaming monitor(s) will fill your desk and surroundings with some glorious LED lighting. Putting on the light strips is fairly easy and there are quite a few with designs that don't need any tweaking or twisting and are installed in a jiffy!
Floating furniture is always a YES:
Having the proper furniture is always necessary because you are a gamer and not a wild person duh! So after picking out comfy and stylish pieces why not add a flair of drama and fantasy to them. Under lighting, your furniture will give it a floating touch and you will really feel like you are on your own high tech island. So pick out your gaming room LED lights and get fixing!
GET YOUR SETUP STARTED: