Thinking about redecorating your house or better yet want to jazz up your place for some action? You have to use some LED light strips! If you think they lack versatility then you'd be pleasantly surprised to know that not only are they popular now but quite useful in many ways, be it aesthetic or functional. With a fantastic light quality, the possibilities of using LED light strips in your home design are endless. And it's pretty awesome to know that these "dazzle dazzle" beauties won't add a big dent to your power bill considering that they are energy efficient and quite durable. Let's take a look at a few ways you can illuminate your place and make it look fabulous.
Kitchen – A foodie's haven:
For your first LED lighting project head straight to your kitchen. If you love cooking food and devouring it, then making the kitchen look beautiful should be your priority. See those cabinets with glass fronts where you keep all your favorite dishes, looking dull and lonely? Well with a fresh set of LED light strips behind the cabinet's face or under the shelves, you can show off your utensils looking all lovely glowing. It won't just give your kitchen a festive vibe but also make that late-night stroll in your kitchen for a glass of water "less awakening". You can also show off your wine collection and not damage your favorite bottle by installing LED light strips in the cabinet. Kitchens usually have more moisture thanks to stovetops and kettles, so make sure you use a good quality, strong adhesive while installing the LED light strips.
Light up that cove:
You got a room, a nice ceiling? Well, light it up with LED accent lighting which will add that wow factor to your house décor. The best rooms you can do that in are your bedroom and living room. Cove lighting will really increase the intimate and comfy vibe and especially come in handy when you have got some pretty ceiling decoration to show off. The LED lighting in a cove can also be used as the primary source of light when you are having a party and entertaining guests.
Give the furniture the right glow:
So you have furniture lying around, looking all dark and dull. Instead of chucking it all out why not make it more pretty with LED light strips. You can easily install some LED light strips under the tables, shelves or mini wall units and you'll have the illusion of floating furniture. Add some LED strips behind your flat-screen TV and it will look like it is popping right off the wall. If you have some beautiful artwork you want to highlight, then LEDs around the picture frame will definitely thrust it into the spotlight adding to the décor.
No more dark closets:
Every time you look inside your closet does it lackluster and look gloomy? Well, it might be just that you need some good lightning instead of a full fashion upgrade. Mostly what happens is that the closet door or you block out the room light making it impossible for you to browse and pick something out. Adding LED lights to the interior will not only give you a clear view but also check out all the stuff you thought you had lost it.
Pool away:
If you love spending time in the pool, you might want to consider having LED lighting in your backyard. The right lighting choice will really add some attractive, eye-catching effects to the pool by changing the watercolor. You can find waterproof LED light strips or light projectors which when submerged in the pool will create a nice, soothing effect, making you feel nice and relaxing. Your pool will definitely be the coolest hangout spot among friends, that's for sure!
Patio glows up:
If you love hosting dinners or parties then adding LED light strips to the patio is an excellent idea. You can easily create a chic and inviting vibe and it will feel nice hanging out outside, breathing fresh air every now and then in the light glow. Installing LED lighting outdoors will also give that sense of excitement you have been looking for while house decorating and it will make hanging out with friends and family more fun!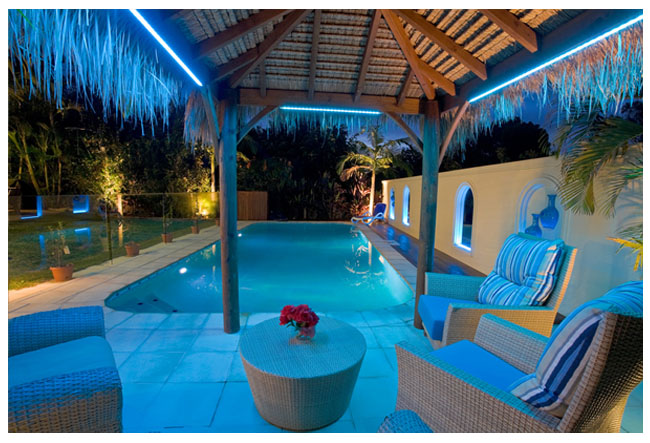 If you ever want a change of color or need something unique and different, adding LED light strips to it is a great way. They are flexible and give an instant glow up which saves time and money both. Lighting up if done right can not only look cool but oh so futuristic!
GET YOUR SETUP STARTED: